That was kind of how it seemed to me for 20 months, I couldn't land. Things were just a little different that what I was use to. All the people were great to me. They tried to make me feel welcome. Bob Eckberg was the guy who got me here. I had good experience with property records, needed a job and Bob needed the company records brought up to date with a system to keep them up to date. He was real nice to work with.


In the map above, there are two dark blue squares which outline pole line maps for routes "3J" and "8", maps that I kept for souvenir's. Click on them to view their detail. The photo below is in the break room, I can't remember 1st girl, but next is Jane Brumfield, Don Kilgore and Anneta.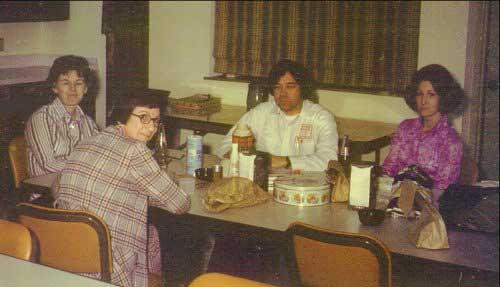 Ray Sanders and his wife Millie were the owners of the company and they were extra good to me, as well as their friend John Walker, all who moved here from the Chicago area where they got their training in telephony. John even let me room with him until my family could move down. The only problem at John's room is it was very buggy, but I lived with it.
Many months down the road, Ray was getting sick and he was put in the hospital. At the same time, remarks were getting to me about my work that were not to pleasing. I have not had a good history on handling problems like that and I lost my head head. I quit. My work that I started, was not finished, and I left Bob without his property records being completed. I am so sorry I did that.
It gets worse. I take a job in San Juan, Puerto Rico, and quit the next day because I was scared. I had left my family standing at the Springfield airport and returned the next day without a job. What does Millie Sanders do, she makes it possible for me to come back to work until I find another job, Bob Eckberg probably was in there soom where too. They was fantastic. I'll never be able to thank them enough.
While working there, on my own time, I wrote a series of articles on Telephone Plant Records as requested by the the Telephony Magazine. They were published and later combined into a book. Three thousand copies were printed and sold, all over the world. The book was printed saying I worked for Citizens Utilities of Kingman Arizona who had nothing to do with the book.
Some how I should have made it clear that it was the Northern Arkansas Telephone Company
that made it possible for me to write the book in the first place. Please accept my apologies Mr. Sanders, Mrs. Sanders and Mr. Eckberg; much too late.
On the better side, my children have expressed to me that living in Arkansas was a fun experience. We have made a good record of our stay there. We had the second house we ever build, constructed in Mountain Home. We had many visitors from up North come visit and they had a wonderful time. see two pages " Our Home " and " 2002 visit ".
Photo below was taken just before we moved on.