FORT WAINWRIGHT, Fairbanks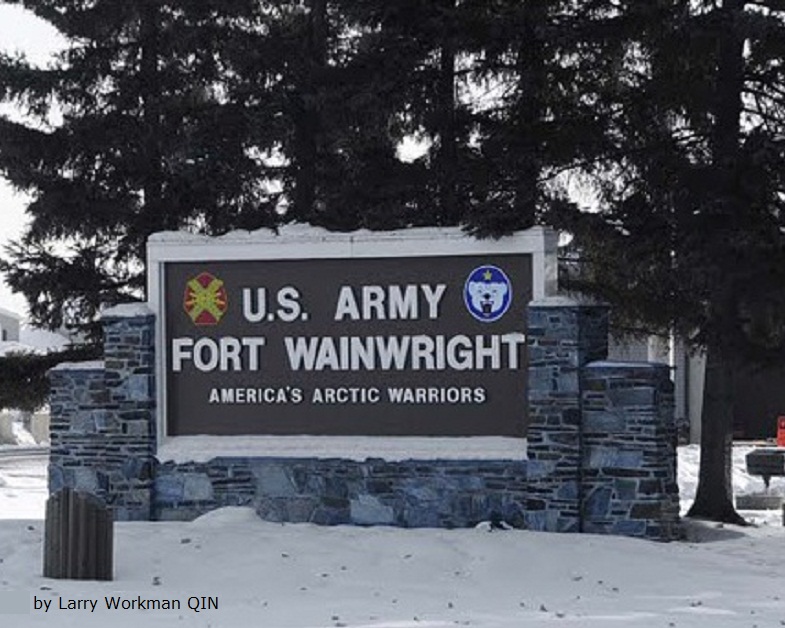 Fort Wainwright encompasses over 900,000 acres on the eastern boundary of the City of Fairbanks in the Tanana River Valley. The Fort was established in 1938 for the primary purpose of training soldiers and testing equipment in arctic conditions. Industrial operations support mission activities and include maintenance of aircraft and vehicles, and power generation. Fort Wainwright is made up of several areas, including a main post area of 4,473 acres, partly within the city limits, 8,825 acres of ranges, and over 898,000 acres of military maneuver areas. Approximately 15,000 people live and work at Fort Wainwright.



Image from North

The base was named for Gen. Jonathan Wainwright who led delaying tactics on Bataan and Corregidor in the Philippines against Japanese force in World War II.

The air field was named "LADD FIELD", now a

National Historic Landmark

, in honor of Maj. Arthur K. Ladd, an Air Corps pilot killed in a plane crash in South Carolina in 1935.

Fairbanks History


Fort Wainwright,soldiers will work and train in temperatures
ranging from 80 degrees F in the summer
to minus 50 degrees F in the winter.



From 1998 to 2006, it was home to the

172nd Infantry Brigade

, which was reorganized in 2003 as the 172nd Stryker Brigade Combat Team (SBCT), part of the U.S. Army's transition program to include six SBCTs. In 2006, the 172nd was re-flagged as the 1st brigade of the

25th Infantry Division

.

Fort Wainwright is also the home of Task Force 49, an aviation brigade that provides logistical air support for U.S. Army Alaska. It also hosts the

Bureau of Land Management's Alaska Fire Service. It is home to Bassett Army Community Hospital.