The Base is named for
Carl Ben Eilson


Born in Hatton, North Dakota in 1897, Eielson served in World War I with the US Army Signal Corps' aviation section. A month before he was to depart for France, the war ended. He earned Second Lieutenant bars in March 1919, and was discharged the same day.
For several years thereafter, Eielson alternated between barnstorming and college life. He dropped both, temporarily it turned out, and in 1922 moved to Fairbanks to teach high school. Aviation continued to beckon, and that same year he became the sole pilot for the Farthest North Aviation Company, an enterprise he and several local businessmen founded. After obtaining a surplus Army aircraft in the United States, Eielson soon began making regular commercial flights from Fairbanks. His cargo included supplies, mail, and passengers.
In 1924, the company received a postal contract from the government. After a crash, the contract was terminated and Eielson returned to military service. He was stationed at Langley Field, Virginia for most of 1925 before moving back to North Dakota and working as a bond salesman.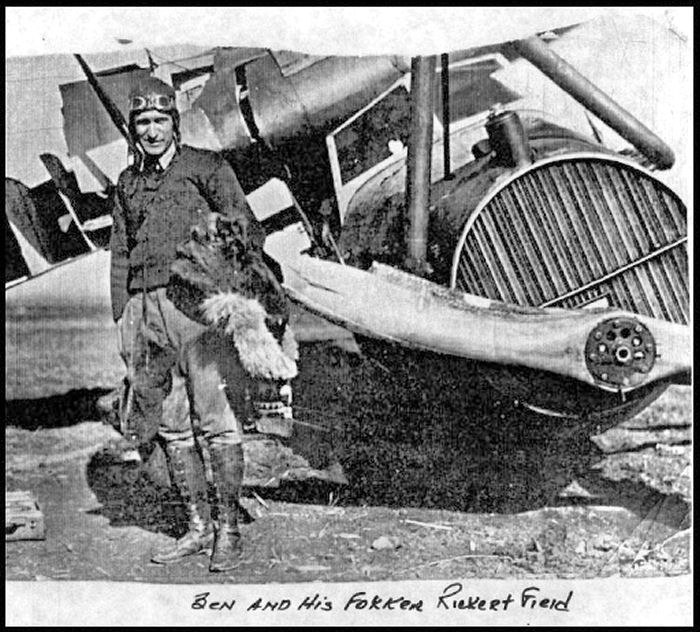 Arctic aviator Hubert Wilkins gave the erstwhile aviator another chance in late 1925, when he asked Eielson to pilot an expedition across the North Pole. After two unsuccessful attempts in 1926 and 1927, the pair succeeded in 1928, flying from Barrow, Alaska to Spitsbergen Island north of Norway. It was the first flight from North America to Europe over the North Pole. As such, it brought Eielson lasting fame. The feat earned him the Distinguished Flying Cross and the 1928 Harmon Trophy for the greatest aviation exploit of the year. Later in 1928, Eielson would also fly Antarctic routes with Wilkins.
Eielson returned to Fairbanks in early 1929 and helped found Alaska Airways Incorporated. On November 9, 1929, at the age of 32, Carl Ben Eielson along with his mechanic Earl Borland died while flying across the Bering Strait to Siberia in an attempt to rescue both crew and cargo of the ice-bound ship, the Nanuk. An international team of rescuers did not locate the wreckage until January 1930. Eielson is buried in Hatton, North Dakota.

---
A telecommunication friends comment after viewing this page - Jan. 26, 2011
Interesting photos and info, Vern. They called the Greenpine UHF system 488L. I used to work on the 487L SLFCS sytem, part of SAC communications also. It was a survivable, low-frequency communication system, operating in the 14 kHz to 60 kHz range. It was very slow because of the low frequencies used. But, they considered it "survivable" in a post nuclear environment. I always wondered if it had really been tested in such an environment and whether it really worked. But, no matter since neither we nor the Russians "nuked" each other.

I remember Murphy Dome as a place most airmen did NOT want to go. I passed through Eielson AFB in 1973, and it was colder than "a brass toilet seat in January in N. Dakota." I do remember the beautiful sunset there, howevr. I was glad I wasn't stationed there though.

I had tried for an assignment in communications at Elmendorf AFB, Anchorage, in 1982, but the guy who I was to replace decided to extend. So, I went to Malmstrom AFB, Great Falls, MT, instead. Alaska is a beautiful, but cold state. Some of the GIs I knew who got assigned there decided later to live there. I guess you understand the reason why. Ernie